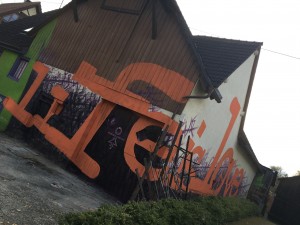 .
Psyland is not just a tattoogallery.
This place materializes the whole unique style made by the artists working there and is in itself an ever-changing piece of art. The exceptional atmosphere you will feel during your stay probably changes your whole conception of what is intended to be a tattooshop.
__________________
to help building psyland 25 – please scroll down to the end
___________________
the guesthouse
from now on psyland hold his own guesthouse and gives every customer the chance to stay fully on psyland while his visit. this will makes it more easy and will hopefully give your experience the last touch.
we have now a comunity room includeing a kitchen and a bathroom who is open not only for overnight guest. its open for any customers of psyland and gibes u the chance to pus some drinks in a fridge, cook your own food, make coffe or tea and relax befor or after a hard sesion.
right now we have only one room available. rudi. its the shifted room build in little swastikas old camper friend rudi, in wich he have lived many summers and explored europe. it holds a king size bed for two persons.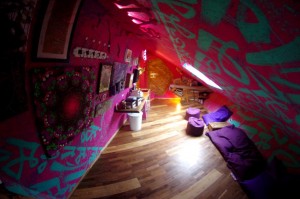 _______________________
prices
.
one person – 35€ / night
two persons – 50€ / night
_____________________
conditions
.
the psyland guesthouse runs with a easy system. you leave your room as you find it. means you clean it and throw your trash away and make the bed when you arrive by yourself. we prefer when you bring your own sheets, specially when you come and get inked. in this way we do not have to do so much laundry and do not need to pay someone to clean and do all this. in case you come from far or you not have the chance to bring sheets. we will have some to use for a small donation. but we all know what happens with fresh sheets and fresh big tattoos, so please bring your own sheets.
.
there is a full equipped kitchen to use. so you can save money as you do not have to go to any restaurants. there is a fridge to use to have cold drinks and for your food.
.
we always have a few drinks here and you can drink a coffee or tea here. the payment of this goes just in a donation box. but you also free to bring your own and use our kitchen for it.
.
for showering and toilet we have one to share for all. and the same as for the rooms. leave it as you want to come in to use. we hold a amazing waterfall shower and we know its tempting to take long showers, but we really want that everyone thinks about the environment and dont use more water as he have to. we are hippies here and we absolutely not support more than one short shower a day. the same with electric. shut down the lights in the evening and when you leave.
.
check in and out time is around 10 am.
.
it is forbidden to smoke anywhere inside of psyland and anywhere siting on wood. almost everything is build here out of wood and organic stuff who burns very fast. beside this we do not support smoking. you can smoke at the entry of the shop or maybe just let this bad habit stay at your home for a few days. also its forbidden to smoke weed or use any drugs here. we have a absolute zero tolerance policy about this here.
.
please remember. you are guests. so behave like it or it will be your last visit.
.
for right now our rooms are only open for tattoo customer and you book them direct over your tatuist. payment in front and for cancellations less than two weeks befor your stay no refunds.
.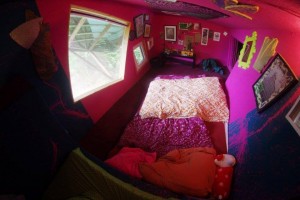 .
___________________
some other impressions from our gallery and around
___________________
beside the huge amount of time we spend in building psyland 25 to a more and more absurd place, it also eat up a lot of money. you can easy help us with a small donation and we garante that all this money is used to build and progress this place.
thank you for your help.